Exhibit 99.1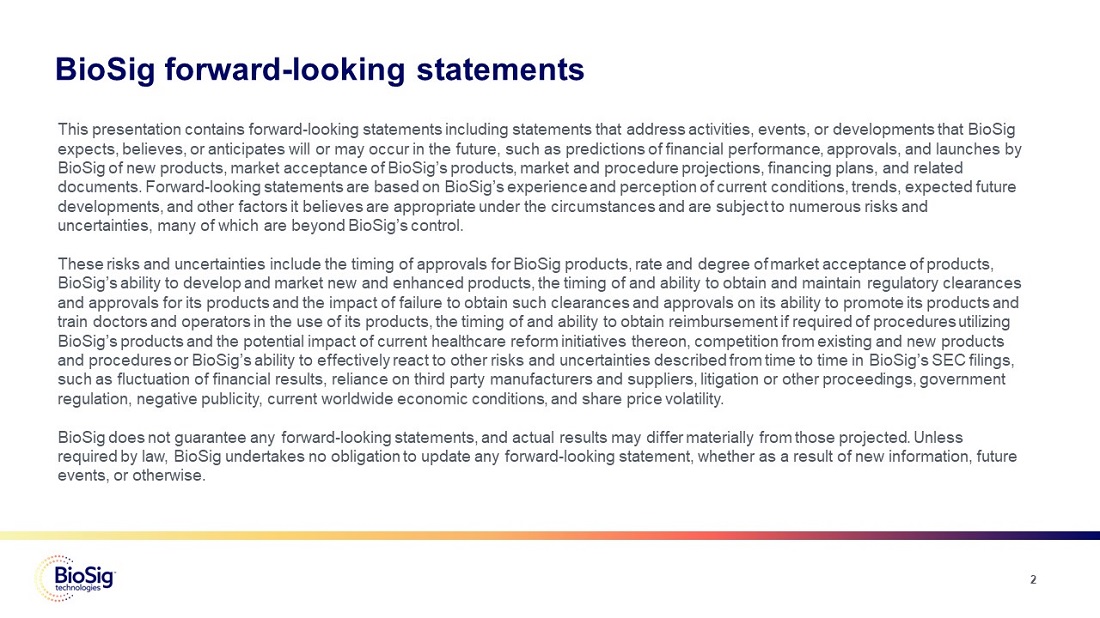 This presentation contains forward-looking statements including statements that address activities, events, or developments that BioSig expects, believes, or anticipates will or may occur in the future, such as predictions of financial performance, approvals, and launches by BioSig of new products, market acceptance of BioSig's products, market and procedure projections, financing plans, and related documents. Forward-looking statements are based on BioSig's experience and perception of current conditions, trends, expected future developments, and other factors it believes are appropriate under the circumstances and are subject to numerous risks and uncertainties, many of which are beyond BioSig's control.
These risks and uncertainties include the timing of approvals for BioSig products, rate and degree of market acceptance of products, BioSig's ability to develop and market new and enhanced products, the timing of and ability to obtain and maintain regulatory clearances and approvals for its products and the impact of failure to obtain such clearances and approvals on its ability to promote its products and train doctors and operators in the use of its products, the timing of and ability to obtain reimbursement if required of procedures utilizing BioSig's products and the potential impact of current healthcare reform initiatives thereon, competition from existing and new products and procedures or BioSig's ability to effectively react to other risks and uncertainties described from time to time in BioSig's SEC filings, such as fluctuation of financial results, reliance on third party manufacturers and suppliers, litigation or other proceedings, government regulation, negative publicity, current worldwide economic conditions, and share price volatility.
BioSigdoes not guarantee any forward-looking statements, and actual results may differ materially from those projected. Unless required by law, BioSig undertakes no obligation to update any forward-looking statement, whether as a result of new information, future events, or otherwise.
Reimagining what's possible in cardiac care
We are a medical technology company focused on deciphering the body's electrical signals, starting with heart rhythms.
By leveraging a first-of-its-kind combination of hardware and software, our technology delivers unprecedented cardiac signal clarity, ending the reliance on mixed signals and reading between the lines.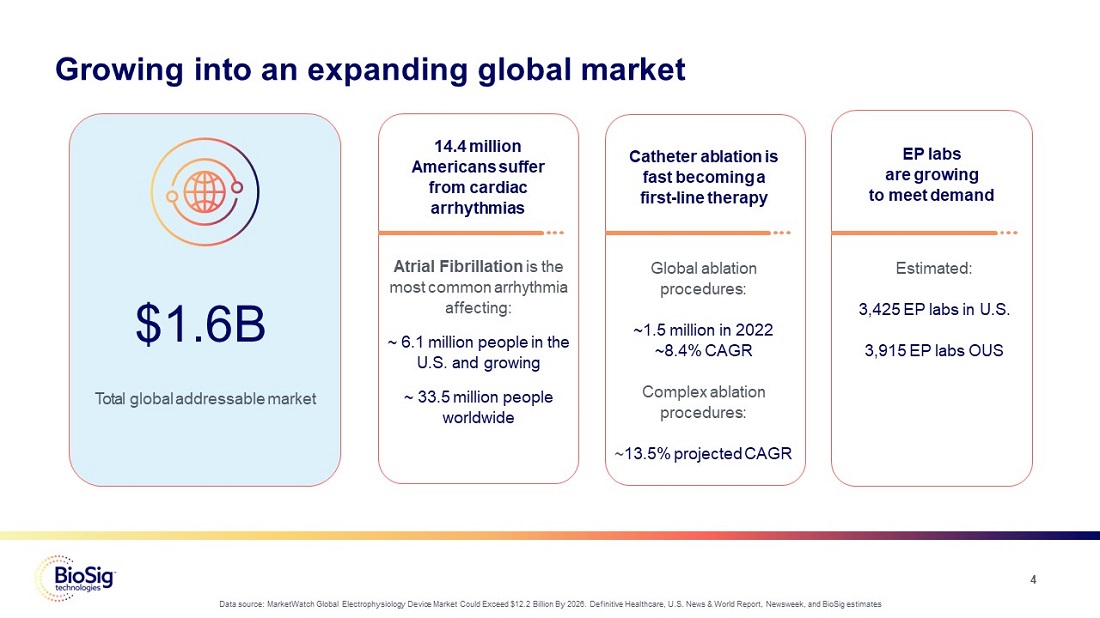 Growing into an expanding global market
$1.6B Total global addressable market
14.4 million Americans suffer from cardiac arrhythmias
Atrial Fibrillation is the most common arrhythmia affecting: ~6.1 million people in the U.S. and growing ~33.5 million people worldwide
Catheter ablation is fast becoming a first-line therapy
Global ablation procedures: ~1.5 million in 2022 ~8.4% CAGR
Complex ablation procedures: ~13.5% projected CAGR
EP labs are growing to meet demand
Estimated: 3,425 EP labs in U.S. 3,915 EP labs OUS
Data source: MarketWatch Global Electrophysiology Device Market Could Exceed $12.2 Billion By 2026. Definitive Healthcare, U.S. News & World Report, Newsweek, and BioSig estimates
Presenting the PURE EP™ Platform
Poised to disrupt the field of electrophysiology, PURE EPTM delivers unprecedented intracardiac signal purity that pushes the boundaries of cardiac arrhythmia identification.
PURE EPTM offers one-of-a-kind algorithms, configurable features, and novel applications not found on any other platform—and there's more in the pipeline.
Saving procedural time and improving workflow efficiency, PURE EPTM eliminates unnecessary inefficiencies to support cost savings.
Supporting our clinical profile with data and economic value
Signal Clarity & Relevance1
In a multi-center, randomized prospective study, PURE EP™signals were compared to conventional recording and mapping systems signals: 75% of PURE EP™ signals rated superior in quality 83% of the time, physicians were more confident in differentiating signal components with PURE EP™ 73% of the time, PURE EP™ produced superior small, fractionated signals of clinical significance
Improved Workflow, Time & Cost Savings2
To determine the difference in procedural times when comparing ablations guided by PURE EP™'s electrocardiogram (EGM) visualization to the conventional system: PURE EP™led to a mean procedure time reduction of: 11.3 minutes Given that the mean cost of operating room time is approximately $37 per minute3, PURE EP™ demonstrated potential cost savings of approximately: $418.10 per procedure
1.Al-Ahmad A, Knight B, Tzou W, et al. Evaluation of a novel cardiac signal processing system for electrophysiology procedures: the PURE EP 2.0. study. J Cardiovasc Electrophysiol. 2021;32(11):2915-2922. Epub 2021 Oct 1. DOI: 10.1111/jce.15250
2. Gallinghouse, G. Joseph; Natale, Andrea; Al-Ahmad, Amin; Della Roca, Domenico Giovanni; Jones, Sterling; Firmstone, Samantha; Lewen, Jason. (2022). Time of Redo Atrial Fibrillation Ablation Procedures with PURE EP Recording System for ECG/EGM Visualization: A Randomized Study. Paper presented at APHRS 2022 Singapore: The 15th APHRS Scientific Session [PP-069-2-AF (55)]. Identifier: NCT04964440.
3. Chudzik, R., Distel, D., Stoneman, L., Thording, L. Why Hospital Leaders Should Look to Cardiology for Sustained Future Reprocessing Savings. (2018, April 25). Innovative Health. https://blog.innovative-health.com/blog.
Integrating into EP labs for improved efficiency
PURE EP™ delivers unprecedented clarity of the raw electrical signals of the heart, unburdening physicians from having to parse through interference of outputs from conventional technology–an on-going problem in EP labs.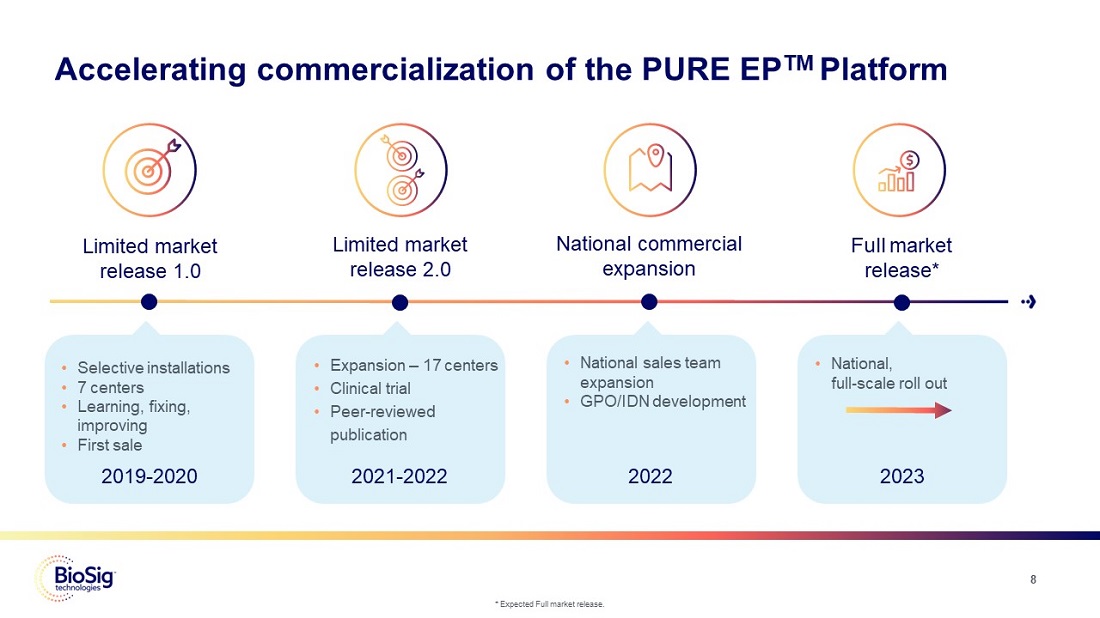 Accelerating commercialization of the PURE EPTM Platform
Limited market release 1.0 •Selective installations •7 centers •Learning, fixing, improving •First sale 2019-2020
Limited market release 2.0 •Expansion –17 centers •Clinical trial •Peer-reviewed publication 2021-2022
National commercial expansion •National sales team expansion •GPO/IDN development 2022
Full market release* •National, full-scale roll out 2023
* Expected Full market release.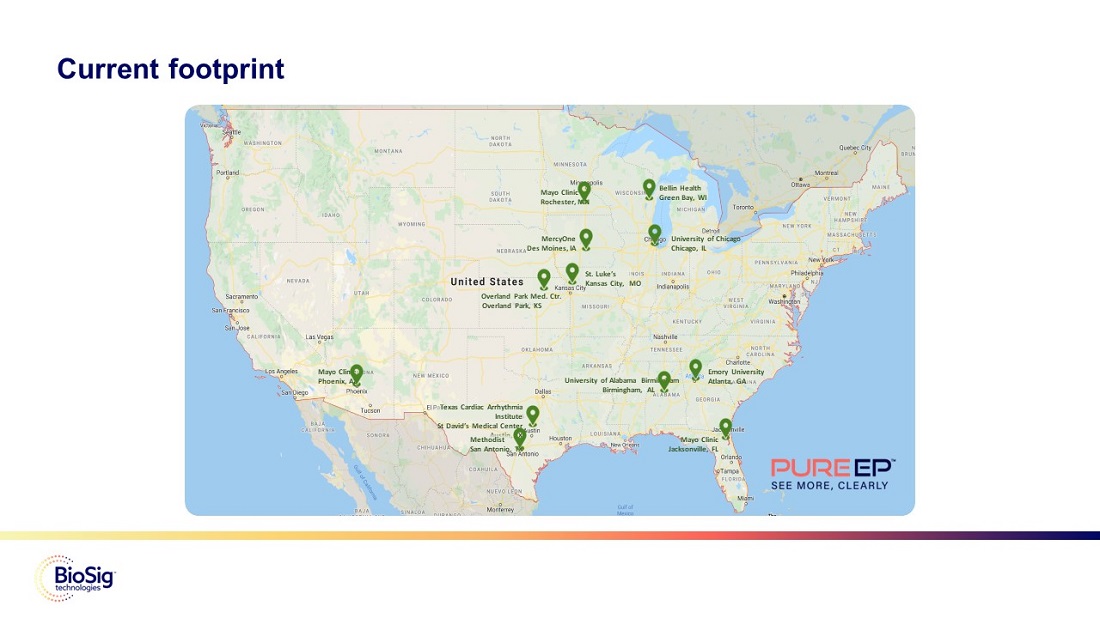 Current footprint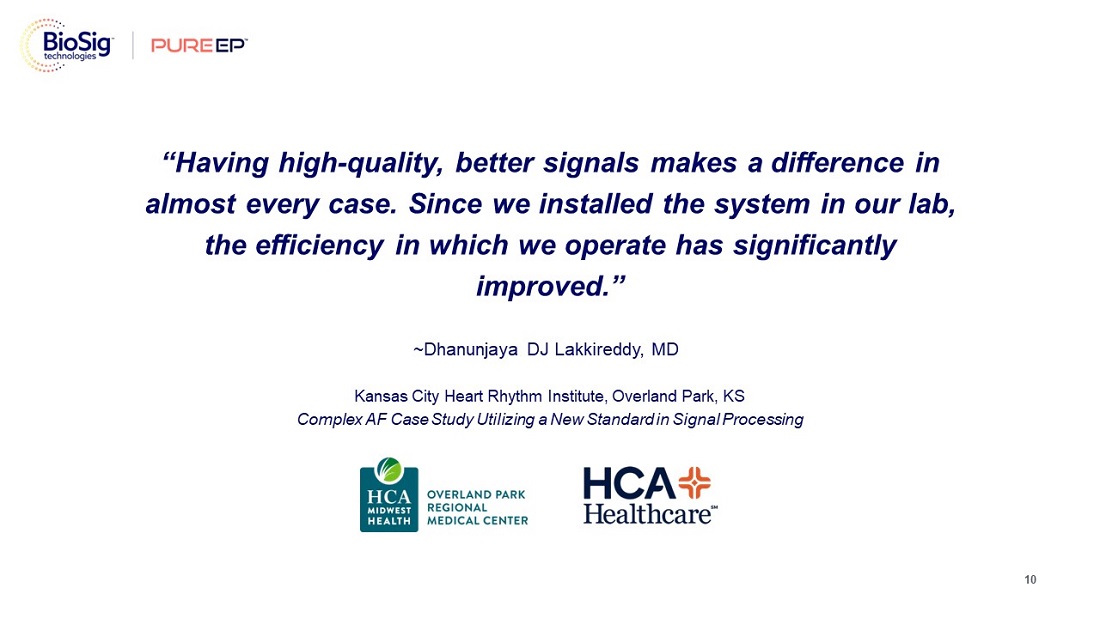 "Having high-quality, better signals makes a difference in almost every case. Since we installed the system in our lab, the efficiency in which we operate has significantly improved."
~Dhanunjaya DJ Lakkireddy, MD
Kansas City Heart Rhythm Institute, Overland Park, KS
Complex AF Case Study Utilizing a New Standard in Signal Processing
Led by strong industry experience
Kenneth L. Londoner, MBA Founder, Chairman, Chief Executive Officer, Director Endicott Management Partners; J & W Seligman & Co.; Visiting Professor, Columbia University
Gray Fleming Chief Commercial Officer St. Jude Medical; Abbott Laboratories
John Sieckaus Chief Operating Officer St. Jude Medical; Abbott Laboratories
Steve Buhaly Chief Financial Officer Qorvo; Longview Fibre; Planar System
Brenda Castrodad VP, Human Resources TissueTech, Inc.; HeartWare Inc.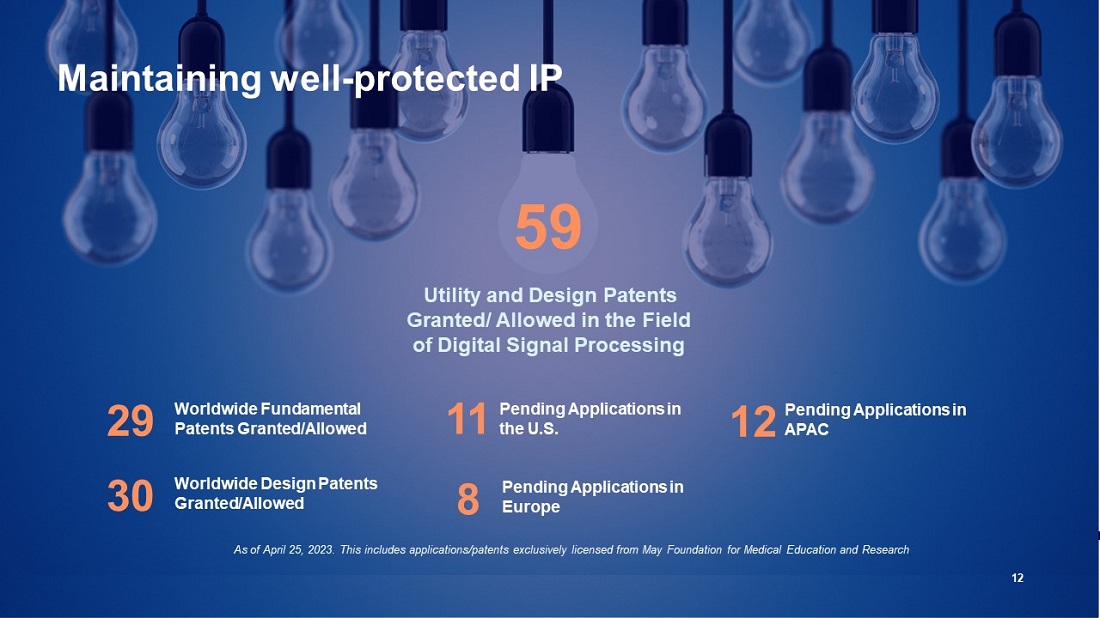 Maintaining well-protected IP
59 Utility and Design Patents Granted/ Allowed in the Field of Digital Signal Processing
29 Worldwide Fundamental Patents Granted/Allowed
11 Pending Applications in the U.S.
12 Pending Applications in APAC
30 Worldwide Design Patents Granted/Allowed
8 Pending Applications in Europe
As of April 25, 2023. This includes applications/patents exclusively licensed from May Foundation for Medical Education and Research
Why BioSig now?
The solution Solving the critical unmet need for better intracardiac information that may improve success rates of ablation procedures.
First customers are industry leaders World-renowned Medical Centers of Excellence.
Disruptive and novel technology Our technology saves procedural time and improves workflow efficiency in an environment where the technology has not changed meaningfully in 25+ years.
Flexible pricing model Supports recurring revenue and continuous innovation.
Substantial and growing global market Global EP market is growing by 11.2% and expected to reach $16B by 2028.
Fortune 500 commercial team Proven track-record of generating sales growth.
Strong clinical data pipeline Published/ongoing clinical studies supporting commercialization.
Well-protected IP portfolio 59 Worldwide fundamental patents granted/allowed.
*Global Market Insights Inc. March 08, 2022.
Upcoming Events
New Customer announcements* U.S. product acquisitions and expansion of footprint.
Participation at Heart Rhythm 2023 in New Orleans May 19-21The largest gathering of heart rhythm professionals from around the world.
Release of Clinical Data May 2023* Multiple abstracts have been accepted for presentation at Heart Rhythm 2023.
Software rollout Spring 2023, Fall 2023 and 2024* Commitment to continuous feature innovation.
* Expected.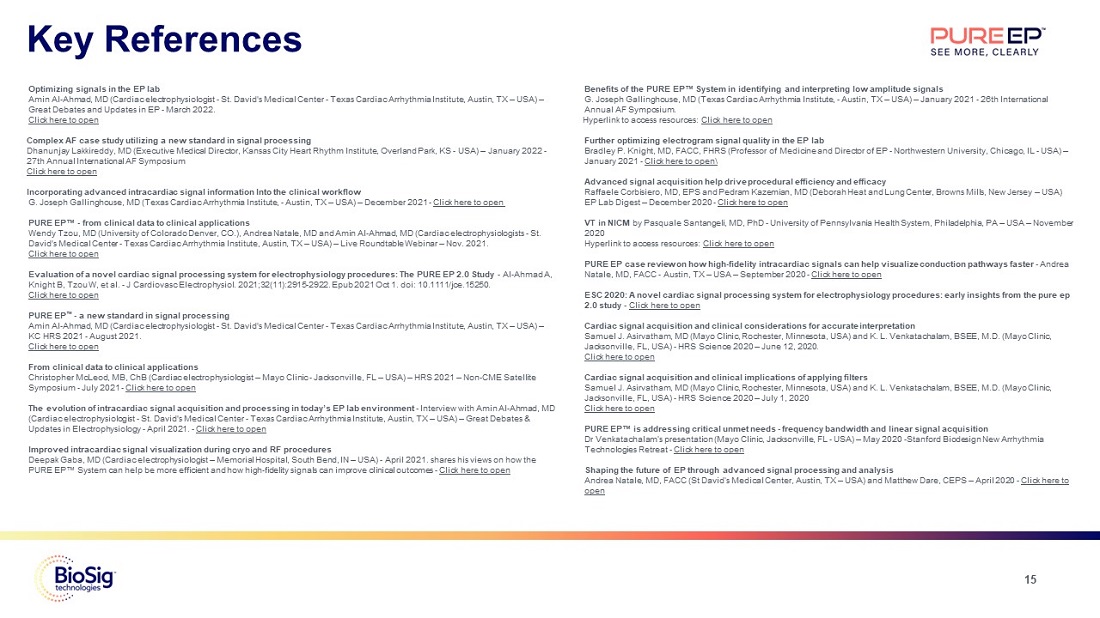 Key References
Optimizing signals in the EP lab Amin Al-Ahmad, MD (Cardiac electrophysiologist - St. David's Medical Center - Texas Cardiac Arrhythmia Institute, Austin, TX – USA) – Great Debates and Updates in EP - March 2022. Click here to open
Complex AF case study utilizing a new standard in signal processing Dhanunjay Lakkireddy, MD (Executive Medical Director, Kansas City Heart Rhythm Institute, Overland Park, KS - USA) – January 2022 - 27th Annual International AF Symposium Click here to open
Incorporating advanced intracardiac signal information Into the clinical workflow G. Joseph Gallinghouse, MD (Texas Cardiac Arrhythmia Institute, - Austin, TX – USA) – December 2021 - Click here to open
PURE EP™ - from clinical data to clinical applications Wendy Tzou, MD (University of Colorado Denver, CO.), Andrea Natale, MD and Amin Al-Ahmad, MD (Cardiac electrophysiologists - St. David's Medical Center - Texas Cardiac Arrhythmia Institute, Austin, TX – USA) – Live Roundtable Webinar – Nov. 2021. Click here to open
Evaluation of a novel cardiac signal processing system for electrophysiology procedures: The PURE EP 2.0 Study - Al-Ahmad A, Knight B, Tzou W, et al. - J Cardiovasc Electrophysiol. 2021;32(11):2915-2922. Epub 2021 Oct 1. doi: 10.1111/jce.15250. Click here to open
PURE EP™ - a new standard in signal processing Amin Al-Ahmad, MD (Cardiac electrophysiologist - St. David's Medical Center - Texas Cardiac Arrhythmia Institute, Austin, TX – USA) – KC HRS 2021 - August 2021. Click here to open
From clinical data to clinical applications Christopher McLeod, MB, ChB (Cardiac electrophysiologist – Mayo Clinic - Jacksonville, FL – USA) – HRS 2021 – Non-CME Satellite Symposium - July 2021 - Click here to open
The evolution of intracardiac signal acquisition and processing in today's EP lab environment - Interview with Amin Al-Ahmad, MD (Cardiac electrophysiologist - St. David's Medical Center - Texas Cardiac Arrhythmia Institute, Austin, TX – USA) – Great Debates & Updates in Electrophysiology - April 2021. - Click here to open
Improved intracardiac signal visualization during cryo and RF procedures Deepak Gaba, MD (Cardiac electrophysiologist – Memorial Hospital, South Bend, IN – USA) - April 2021. shares his views on how the PURE EP™ System can help be more efficient and how high-fidelity signals can improve clinical outcomes - Click here to open
Benefits of the PURE EP™ System in identifying and interpreting low amplitude signals G. Joseph Gallinghouse, MD (Texas Cardiac Arrhythmia Institute, - Austin, TX – USA) – January 2021 - 26th International Annual AF Symposium. Hyperlink to access resources: Click here to open
Further optimizing electrogram signal quality in the EP lab Bradley P. Knight, MD, FACC, FHRS (Professor of Medicine and Director of EP - Northwestern University, Chicago, IL - USA) – January 2021 - Click here to open\
Advanced signal acquisition help drive procedural efficiency and efficacy Raffaele Corbisiero, MD, EPS and Pedram Kazemian, MD (Deborah Heat and Lung Center, Browns Mills, New Jersey – USA) EP Lab Digest – December 2020 - Click here to open
VT in NICM by Pasquale Santangeli, MD, PhD - University of Pennsylvania Health System, Philadelphia, PA – USA – November 2020 Hyperlink to access resources: Click here to open
PURE EP case review on how high-fidelity intracardiac signals can help visualize conduction pathways faster - Andrea Natale, MD, FACC - Austin, TX – USA – September 2020 - Click here to open
ESC 2020: A novel cardiac signal processing system for electrophysiology procedures: early insights from the pure ep 2.0 study - Click here to open
Cardiac signal acquisition and clinical considerations for accurate interpretation Samuel J. Asirvatham, MD (Mayo Clinic, Rochester, Minnesota, USA) and K. L. Venkatachalam, BSEE, M.D. (Mayo Clinic, Jacksonville, FL, USA) - HRS Science 2020 – June 12, 2020. Click here to open
Cardiac signal acquisition and clinical implications of applying filters Samuel J. Asirvatham, MD (Mayo Clinic, Rochester, Minnesota, USA) and K. L. Venkatachalam, BSEE, M.D. (Mayo Clinic, Jacksonville, FL, USA) - HRS Science 2020 – July 1, 2020 Click here to open
PURE EP™ is addressing critical unmet needs - frequency bandwidth and linear signal acquisition Dr Venkatachalam's presentation (Mayo Clinic, Jacksonville, FL - USA) – May 2020 -Stanford Biodesign New Arrhythmia Technologies Retreat - Click here to open
Shaping the future of EP through advanced signal processing and analysis Andrea Natale, MD, FACC (St David's Medical Center, Austin, TX – USA) and Matthew Dare, CEPS – April 2020 - Click here to open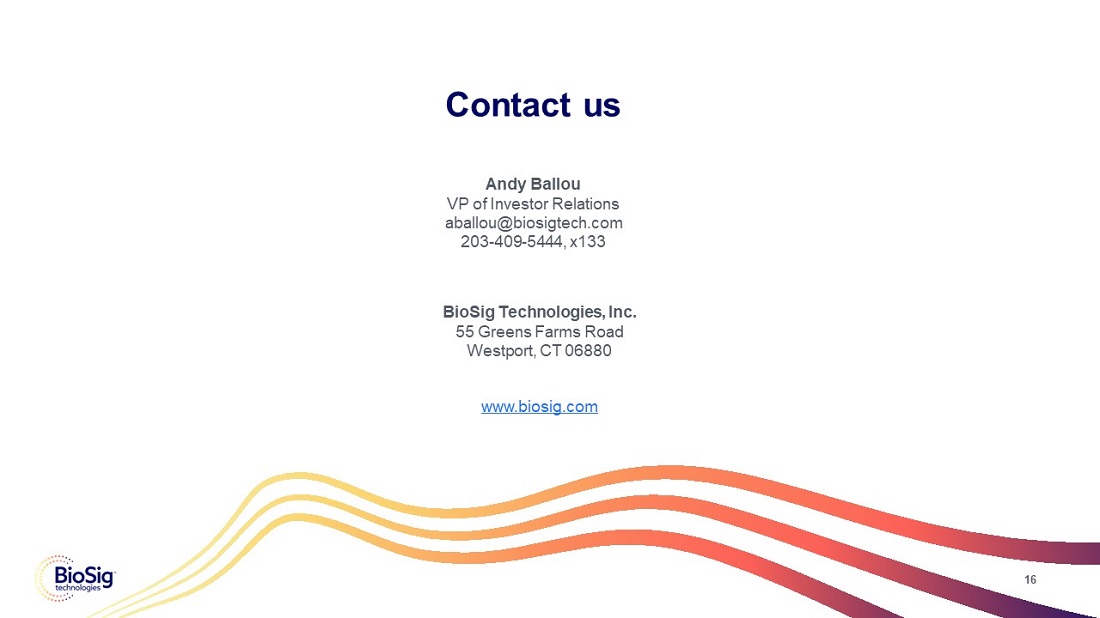 Contact us
Andy Ballou VP of Investor Relations aballou@biosigtech.com203-409-5444, x133
BioSig Technologies, Inc.55 Greens Farms RoadWestport, CT 06880
www.biosig.com