BioSig AI Sciences Selected for NVIDIA Inception Partnership Program to Support R&D Collaboration on AI Medical Device Platform for Hospitals
Westport, CT, July 20, 2023 (GLOBE NEWSWIRE) -- BioSig Technologies, Inc. (NASDAQ: BSGM) ("BioSig" or the "Company"), a medical technology company delivering unprecedented accuracy and precision to intracardiac signal visualization, today announced that its subsidiary BioSig AI Sciences, Inc. (BAIS) was selected to join NVIDIA Inception, a program designed to partner with companies revolutionizing industries with advancements in artificial intelligence (AI) and data sciences.
NVIDIA Inception helps leading emerging-growth companies during critical stages of product development, prototyping and deployment. Partners are qualified to receive engineering guidance, technical training, hardware and software support, co-marketing, and exposure to the NVIDIA investment community. As BAIS advances research and development of its AI medical device platform, it intends to draw on NVIDIA's wealth of resources including developer application frameworks and domain-specific AI computing for building medical devices.
"We are thrilled to join an elite group of AI-centric technology companies leading the evolution of machine learning and AI across industries," said Ken Londoner, Chairman, CEO and Founder of BioSig. "We believe NVIDIA Inception will help advance BioSig's role in identifying transformational applications of AI opportunities in healthcare."
BAIS is training its AI platform using electrocardiogram and intracardiac electrogram data from BioSig's patented PURE EP™ Platform, used in more than 3,500 procedures to date and featured in peer-reviewed clinical research. The technology has the potential to help healthcare systems develop and deploy a branded ChatGPT-like, multi-modal foundation model that understands structured, semi-structured, and unstructured medical data across time-series, text, image, video, and other clinically relevant signal modalities.
About BAIS
BAIS, a majority-owned Delaware C Corporation subsidiary of BioSig, is developing AI solutions for the hospital marketplace utilizing structured, semi-structured, and unstructured data.
According to Data Bridge Market Research, the market for AI in healthcare, estimated at $9.6 billion in 2022, is expected to reach $272.9 billion by 2030, at a CAGR of 51.9% during the forecast period.1 
About BioSig
BioSig is an advanced medical technology company bringing never-before-seen insights to the treatment of cardiovascular arrhythmias. Through collaboration with physicians, experts, and healthcare leaders across the field of electrophysiology (EP), BioSig is committed to addressing healthcare's biggest priorities—saving time, saving costs, and saving lives.
The Company's first product, the PURE EP™ Platform, an FDA 510(k) cleared non-invasive class II device, provides superior, real-time signal visualization allowing physicians to perform insight-based, highly targeted cardiac ablation procedures with increased procedural efficiency and efficacy.
The global EP market is projected to reach $16B in 2028 with an 11.2% growth rate.2
Forward-looking Statements
This press release contains "forward-looking statements." Such statements may be preceded by the words "intends," "may," "will," "plans," "expects," "anticipates," "projects," "predicts," "estimates," "aims," "believes," "hopes," "potential" or similar words. Forward-looking statements are not guarantees of future performance, are based on certain assumptions and are subject to various known and unknown risks and uncertainties, many of which are beyond the Company's control, and cannot be predicted or quantified and consequently, actual results may differ materially from those expressed or implied by such forward-looking statements. Such risks and uncertainties include, without limitation, risks and uncertainties associated with (i) the geographic, social and economic impact of COVID-19 on our ability to conduct our business and raise capital in the future when needed, (ii) our inability to manufacture our products and product candidates on a commercial scale on our own, or in collaboration with third parties; (iii) difficulties in obtaining financing on commercially reasonable terms; (iv) changes in the size and nature of our competition; (v) loss of one or more key executives or scientists; and (vi) difficulties in securing regulatory approval to market our products and product candidates. More detailed information about the Company and the risk factors that may affect the realization of forward-looking statements is set forth in the Company's filings with the Securities and Exchange Commission (SEC), including the Company's Annual Report on Form 10-K and its Quarterly Reports on Form 10-Q. Investors and security holders are urged to read these documents free of charge on the SEC's website at http://www.sec.gov. The Company assumes no obligation to publicly update or revise its forward-looking statements as a result of new information, future events or otherwise.
1 Data Bridge Market Research. Global Artificial Intelligence in Healthcare Market – Industry Trends and Forecast to 2030. January 2023.
2 Global Market Insights Inc. March 08, 2022

Andrew Ballou
BioSig Technologies, Inc.
Vice President, Investor Relations
55 Greens Farms Road
Westport, CT 06880
aballou@biosigtech.com
203-409-5444, x133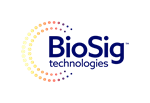 Source: BioSig Technologies, Inc.

Released July 20, 2023